anti-conformational attack (theory)
Description
The design is simple inside this image:-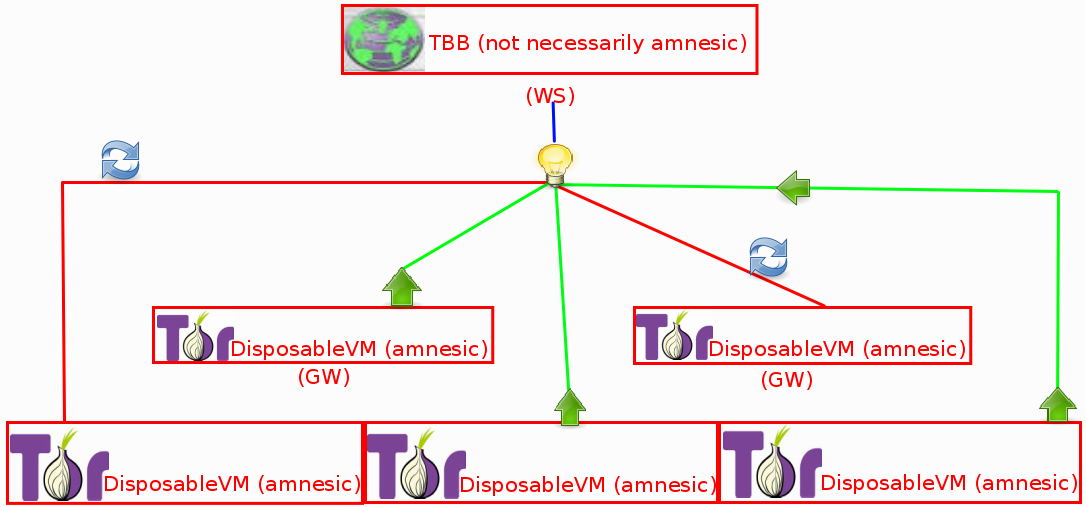 with this design if im getting it correctly , it will be very hard to make a conformational attack or at least very hard also to compromise the GW (Whonix GateWay = medified debian + Tor).

Note:- this design is very possible to happen inside Qubes OS + Whonix OS

The explanation:-

there will be for e.g. five DisposableVM (amnesic VM) which they are connected to the WS (Whonix workstation = medified debian + TBB) , but in fact they wont be working together how?

if u c the refresh icon it means the DisposableVM is turning OFF and going to be ON again after few minutes. while others r still working , and by this we get:-

continuing connection to workstation (working area) , and anti-compromisation to Tor , because the disposableVM will keep shutting shutdown itself and start again from point 0.

the green lines means the disposableVM is working, and red lines means disposableVM is refreshing itself by turning on/off itself from time to time (automatic off/on switcher).

i dunno if my guess is right or wrong. hope i c some activity to this idea.

for more info visit:-